Juicy Crones
Courageous women claiming this part of their lives for adventure, activism and creativity.
Juicy Crones book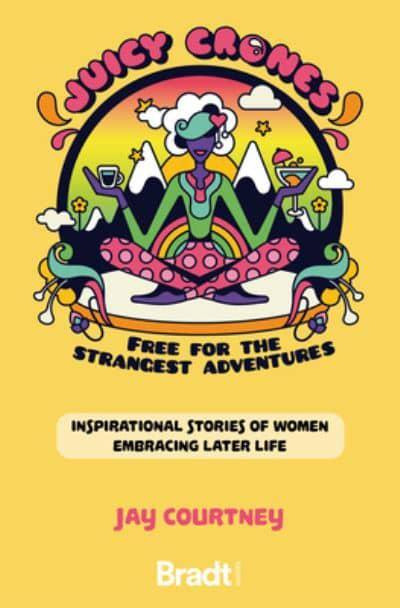 The book Juicy Crones Free for the Strangest Adventures. Inspirational Stories of Women Embracing Later Life by Jay Courtney was published on 5th January 2023 and is available now to buy onlline from publishers Bradt Guides as well as Amazon and Blackwell's.
Jay has gathered stories from amazing women from around the world into a joyous celebration of post-menopausal women life travellers.
Why crones and why juicy?
Both are provocative and playful.
When I retired, I realised quite quickly that I did not know how to do this part of my life. There was no route map to follow, only a looming 'Exit' sign. I found myself invisible in a greige world, so I went on a quest to find a colour that suited me.
Jay Courtney
I am a writer who takes inspiration from being in the wild, whether it's sitting by my garden pond or visiting remote Islands in the North Atlantic. After a distinguished career in education and health, fighting for improvements in children's health and well-being, I am now marinating in all the things I love most and writing about them.
Quotes
Do we want to write the story or do we want to hand that power over to someone else?
Brene Brown, 'Rising Strong'
Even the most captured woman guards the place of the wildish self, for she knows intuitively that someday there will be a loophole, an aperture, a chance, and she will hightail it to escape.
Clarissa Pinkola Estes, 'Women Who Run With the Wolves'
We can look at each of these issues as a wall or a door….In the hearts and minds of empowered women today, every wall is a door.
Melinda Gates, 'The Moment of Lift'
I've come to realize the pleasures of being a nothing-to-lose, take no shit older woman; of looking at what once seemed to be outer limits but turned out to be just road signs
Gloria Steinem, 'Doing Sixty and Seventy'
For now she need not think about anybody. She could be herself, by herself. And that was what now she often felt the need of - to think; well not even to think. To be silent; to be alone…….it was thus that she felt herself; this self having shed its attachments was free for the strangest adventures.
Virginia Woolf, 'To the Lighthouse'